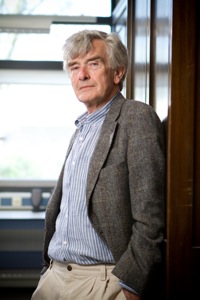 Adriaan van Oosterom
After studying to become an electronic engineer Adriaan van Oosterom was employed by the Laboratory of Medical Physics at the University of Amsterdam where, from 1961 to 1965, he was engaged in the designing of electronic equipment for use in experimental cardiologic research.

From 1965 to 1971 he studied Experimental Physics at the University of Amsterdam where, in 1971, he received an honours degree in Physics (MSc).

Next, from 1971 to 1981, he worked at the Laboratory of Medical Physics (mentor: Prof. Dr. J. Strackee), as well as at the Department of Experimental Cardiology (Prof. Dr. D. Durrer), both in Amsterdam.
During this period various physical aspects of the genesis of the electrocardiogram were studied, which led to a PhD in Physics in 1978 at the University of Amsterdam.

In 1981 he was appointed Professor of Medical Physics at the University of Nijmegen. Here he set up a research group studying Bioelectricity. Besides subjects related to electrocardiography, other bioelectric phenomena were studied, such as those related to electroneurography, electromyography, electroencephalography, functional electrostimulation and electrical impedance tomography.

In September 2003 he was invited to join the Department of Cardiology of the Centre Hospitalier Universitaire Vaudois (CHUV), Lausanne; Switzerland, where he was subsequently appointed Professor of Experimental Cardiology. From his base at the Institute of Signal Processing of the Ecole Polytechnique Fédérale de Lausanne (EPFL) he was involved in research on the electric activity of the heart, with special focus on atrial fibrillation.

After his retirement in September 2009 van Oosterom returned to the Netherlands, where he is currently involved in the completion of a number of the projects initiated in Lausanne.